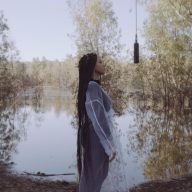 The re-invention of a song from the Setswana FolkTale titled "Tjuele"
The story is about a young girl who lives with her family. The family is terrorized by a villainous character who lives next door. The family decides to move out of their house, but their daughter
"Tjuele" decides to stay. Her mother instructs her to keep the doors locked at all times, she also then creates a secret song that she sings at the door for Tjuele to open the door for her , when she comes by to drop off food.
Lyrics:
Tjuele , Tjuele Ngwana ngwanaka
(Tjuele , Tjuele my daughter)
Ke rile A re tsamaye wa re o salela ntlwana
( I said we should move, but you decided to stay)
Ntlwana se agwa ka ditshipi
( This house bolted with steel)
Mabati a lla Maranrabana
(And these colourful doors)
Directed by : Thina Zibi
Music Produced by : Charles Favi Motsemme
Cinematography by : Chris Preyser
Edited by : Thabiso Molatlhwa
Graded by : Ndumiso Sibanda
Wardrobe & Styling : Nqobile Nxumalo
Assistant Stylist : Keza Gatari